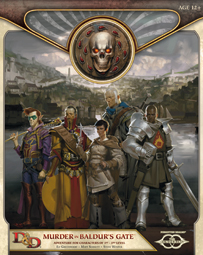 I'm excited: I'm finally digging into the last rules packet plus my two D&D Next super adventures are on their way!
Murder in Baldur's Gate and Legacy of the Crystal Shard are now officially on the table as we wrap up our tremendous Dragon Age campaign.  I might use these Forgotten Realms adventures mostly as is, or for inspiration for a new D&D Next mini-campaign.  My last "Seascape" D&D Next mini-campaign was well received – though admittedly the stories, adventures and personalities moreso than the chaos of the playtest packets – so I'm looking forward to putting the DM hat back on in February.
If you haven't seen them yet, you get D&D Next DM Screens (awesome!) with these Realms adventures, plus they're sourcebooks too – great value!  And sure, the playtest packets – even the final one – are "unfinished" D&D 2014, but they're as close as we can get till the real thing hits shelves in mid or late 2014 – and that day I can't wait for!
The playtest experience was new to everyone, so my playgroup's reaction was mixed.  I can see where it's frustrating changing back and forth on rules, and wondering why certain rules are so vague or plain missing.  But then again, like the packets say – it's playtesting!  You have to expect some of that.  And ultimately, I personally enjoyed being part of the experience and sending them survey feedback. (more…)