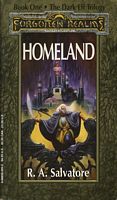 More than fifteen years ago, I took my younger brother with me up to the local mall to our first book signing ever: R.A. Salvatore was going to be at our local Waldenbooks in Lincoln, RI!
That mall and bookstore were actually the places where I discovered my earliest fantasy fiction and gaming favorites: the D&D Red Box, the Dragonlance Chronicles and Icewind Dale trilogies, Homeland (its thoughtful journal-style presentation blew me away), and D&D 2nd edition.
I read them all, cover to cover, every word, with such joy and enthusiasm.  I literally couldn't put any of them down!
That same enthusiastic joy and passion for all things D&D is exactly what you'll see from both Michael Evans of Neuroglyph Games and R.A. Salvatore in this tremendous interview.  I love how the interview covers all things D&D so expertly and candidly: novels, video games and Salvatore's thoughts on D&D itself through the years.
After my brother and I met Rob Salvatore and he signed our books – I had Crystal Shard with me, and my brother loved the Cleric Quintet and had one of those with him – we'd always remember how friendly and down-to-earth our favorite fantasy author was.
We were a bit starstruck, unable to find many words, being a couple of young kids, yet this favorite local author of ours was so genuine, smiling and laughing with us.  You simply knew he loved his books and D&D (2e was the big edition at the time) too – it was clear and wonderful!
And most of all, inspiring.  After all, that halcyon memory is one major reason Leonine Roar – and everything fantasy and D&D in my life – exists and brings me such joy.
And?  It was the start of a dream, just like it was for Michael Evans.
Have you met R.A. Salvatore at a book signing or other appearance?  Have you seen him play D&D?  Share your story here and check out this Celebrity D&D video.