Ah, chronomancy!  The magic of time travel.  A beloved, dare I say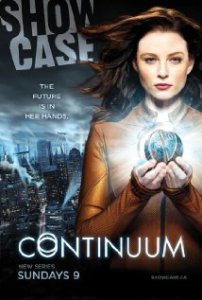 romantic fantasy notion.
Some stories pull it off, like Dragon Age: Inquisition.  Others, like Continuum – a SyFy show I enjoy – can get head-explodes confusing.
So how do you smoothly time travel in your games?  That's the key.  It's got to be believable (or actually, plausible) while simple enough to process.
The few times I've included time travel in my game – and hey, who doesn't at least once? – it's been with mixed results.  As DM, I've even confused myself!
So here's a favorite resource of mine: Dragon issue #430; in particular, I like Robert Schwalb's article, "Unearthed Arcana: Time Travel."  Some good time travel articles in that issue, and Schwalb's simply rocks.
(Also check out Schwalb's new dark fantasy RPG, Shadow of the Demon Lord.  Looks like a Sword Coast Legends D&D meets Dragon Age setting – my kind of gaming!)