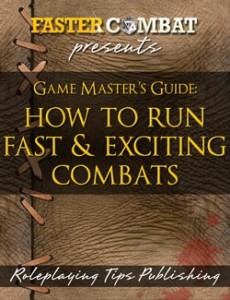 Miss out on the newly released Faster Combat book by Johnn Four and I last week?
Good news – we have a special offer going on through Friday, April 5th for loyal Leonine Roar and Roleplaying Tips readers, fans and followers, right here.  (Go ahead and click, the Perception check DC is easy, I promise!)
Our special offer includes three different feat chains options between the book and course to help you crush your combat grind.  
Now wouldn't that be great?
A HUGE thanks to all our fans and readers across all our sites!   I've loved writing and talking game design and storytelling with and for all of you since February of 2011.  You help make our favorite hobby and game greater and better every day.
Remember, special offer ends this Friday, April 5th.
::Rolls a natural 20::  Yesss!
Here's to your faster combats and sweeping stories!
Tony