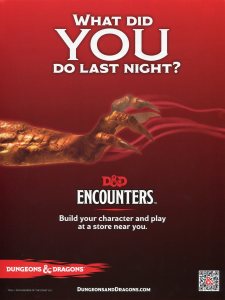 Remember D&D 4e: Top 12 Ways to Stop Sounding So Damn Metagamey?  Of course you do!  Fortunately for us, D&D 5e is not gamey at all compared to its immediate predecessor.
But it's hard to forget how gamey D&D was not too long ago – the rules were many, rigid, and often lifeless.  Quite simply, the rules use to get in the way of the story.  Adventures often felt like exercises in dice rolling and finding every  mathematical advantage around every corner.  Who among us didn't often forget why our characters were doing what they were doing as another grueling crunch-fest-filled hour dragged by?
Thankfully that's all changed in 5e!  Beautiful edition, recalling the wonder and balance of the classic storytelling and gaming experience that truly is the heart of D&D.  I love it!  And so does everyone who plays it, novice or veteran.  Just check ratings, reviews and sales and it's obvious D&D 5th edition is phenomenal.
(Note: To be clear, D&D 5e's astounding quality and "soul" means we're mostly reduced to nitpicking a few minor rules – like in this article – rather than criticizing massive chunks of the game like in last edition.  What a relief!  So with this understanding clear, let's get to the point of this piece.)
However, there is one awkwardly placed section in the PHB that recalled some recent gamey-ness.  The "Inspiration" rule may have been well-intended, but it doesn't quite feel right.