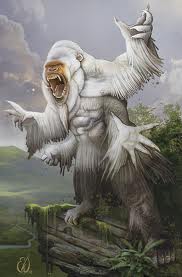 What does encounter difficulty really mean in D&D 4e?
Since the dawn of 4e, I've struggled with this question.  The many times I've DMed and used the incredibly handy Encounter Calculator over on the D&D website, combined with a few years of seeing how those "Standard," "Hard," and even "Too Hard" 4e encounters actually unfold, have left me in a quandary. 
As I've mentioned on Twitter, I'm not sure whether XP values for encounters measure challenge level or difficulty anymore.  The mechanics of 4e, drastically different from its predecessors, now have me re-thinking what encounter difficulty truly means in D&D. 
Today, does it mean "degree of resource management," rather than a measure of "deadliness or lethality," like it did in previous editions?
Hard to Kill?
You see, in 2e and 3.x, things like challenge ratings or even good ol' monster levels felt as though they gave a more accurate assessment of relative difficulty to the party – on a lethality or deadliness scale.  Perhaps the fact that resources or options for attacks, survival and healing were less prolific as they are in 4e, which skews the accuracy. 
Still, the point is that the threat level felt more clear and measurable.  You had an idea, based on XP values, of whether one or more characters would or wouldn't go down in the fight.  As DM, you had a good sense of how hard it was for your party to kill those monsters, and how big their risk of life and limb was.  
And most importantly, it typically played out that way in actual combat.  (Well, except for the 3e girallon, who were later rightfully updated to have a higher CR in 3.5e… oh, the carnage they wrought in my games… good times!)
Resource Management… Zzz
Enter 4e, where survival base character toughness is bolstered significantly, along with the amount of attack, survival and healing resources available to every character.  Many more options and choices also means that the "challenge" of an encounter has shifted more towards excellent resource management rather than simple and thrilling victory. 
Have you ever noticed how excited some players get that they "didn't have to blow any dailies" on the last fight?  Or that they barely used any healing surges either? 
Is it just me, or do you also like to go in guns blazing and not hold back?  The mere conversation of how many detailed resources we did or didn't spend bores the hell out of me, and certainly takes me away from anything resembling an immersive story and world. 
Amp Up The Mayhem
So now what?  Time to amp up the damage, the violence, the mayhem.  Time to avoid extended "resources remaining" conversations like we're part of some military op or maintaining finely tuned spreadsheets and get back into the adventure. 
How?  It's easier than you think.  As DM, amp up global effects.  Fortunately or unfortunately, while there are XP values for traps, there are no such values for similarly threatening fantastic terrain or magical phenomena. 
(And yes, the fact that these aren't codified into XP values does trouble me, and yet with the target threat level or very definition of encounter difficulty in question in 4e now more than ever… well, let's just say it's hard to hit a moving target!)
Also, make sure to throw plenty of "Hard" and "Too Hard" encounters at your party.  Many practical benefits, ranging from using your limited session time wisely, to truly challenging your party on the deadliness and lethality scale rather than as some administrative resource conservation contest. 
Said another way, feel free to scare the hell out of them, drop 'em, and kill 'em.  It's ultimately more fun and exciting!  Just remember you'll have to push past the current encounter difficulty labels and levels because, in practice, they're slightly… off, especially at higher levels of play.  
Many encounters you create as "Hard" or "Too Hard" may test PCs' resources, yes, but they might not actually challenge or scare them, unless you push past the rather inaccurate standards and definitions.  Confidently add more global effects, more monsters, and tougher monsters, especially in paragon and epic play.
Do You Have Difficulty? 
How would you define encounter difficulty in 4e?  How much is it about resource management and how much is it about lethality or deadliness?  Is it 50/50 to you or does it feel slanted  one way or the other as it does with me? 
And what are the conversations at your game table like when it comes to resources remaining and how hard an encounter feels or felt?  Are they rare, just right or do they go overboard?