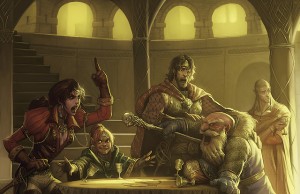 It started with the mention of group or "side" initiative versus the current D&D 4e standard of cyclical individual initiative in a recent Rule of Three.
That awakened my Faster Combat senses – combats average a long and all too often painful 60 minutes in D&D 4e and there's an opportunity to improve combat pacing and speed with group initiative in 4e. 
There are advantages and disadvantages to a group initiative approach and they showed up with great clarity.  In our last Primal Frostfell session, a now-epic tier campaign I'm DMing, my playgroup talked about what we might expect out of group initiative and then simply rolled with it the entire night.  Here's what we discovered:
The Good
* Time.  Much less wasted time spent asking or checking whose turn it was, whether PC or monster
* Flow.  Natural flow to player turns – players went when they were ready on their side, often silently, with visual cues only (i.e. picking up dice and taking action)
* Planning.  Healthy, initial, brief discussion of who wanted to go first or who was ready first
* Subtle Delaying.  Natural opportunities to delay or "advance" in order among party members without actually breaking immersion by saying it or splitting actions
* Roll Once.  Very little time spent rolling, calculating, collecting and announcing initiative; a single initiative roll for each side is made for the whole fight – we added the party's average initiative modifier to the d20 roll
* Track Two Things.  One simple combatant order to track the whole fight; all that matters is, do the PCs or monsters go now?
The Bad
* Duration Juggling.  Potential exploitation of condition or effect durations
I ruled condition or effect durations that expired at the end of a creature's turn expired when that creature finished acting on its side, not at the end of the entire group or side's turn.  For example, this prevented one-round leader class buffs from lasting slightly longer than "until the end of your next turn."
* Initiative-Focused Characters.  Some characters built for or preferring high initiative (i.e. assassins, rogues, ranged strikers, some controllers) may find group initiative punishing. 
There was some excellent discussion about this.  The current primal character party didn't value initiative that highly, but they'd all played characters in the past who have.  Concerning strikers, I've played enough of them where going first wasn't a priority (avenger, two-axe ranger and monk), but I've also seen as DM how high initiative really helps assassins, rogues and wizards bloody a critical target or clean house right from the jump. 
I say initiative-focused characters are still raising the average group initiative quite a bit and that's a boon for the entire party, thanks to their presence.  But of course, you can also look at it glass half-empty (like our resident power gamer did, of course!) and curse the slow-reacting paladins and clerics for slowing you down and holding you back.
Roll With It
Bottom line?  Group or side initiative – and thus combat itself – flowed more smoothly.  The good outweighed the bad in actual play.  Go ahead and give it a try in your D&D 4e games. 
Next I'll be trying it in other D&D campaigns and playgroups as well, to get a better feel for it across multiple groups, classes, and tiers of play. 
What problems do you experience with 4e initiative?   Share them here and let me know how your own group initiative experiments go in your D&D 4e games.