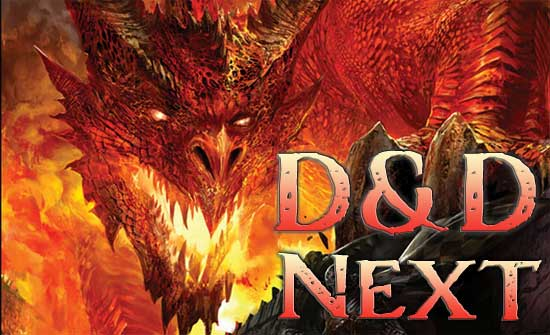 About ten days ago, the final D&D Next playtest packet was announced and released.
What a wonderful, unique opportunity it's been to playtest and provide feedback to the designers of D&D's upcoming 40th anniversary edition.  It's been up and down for everyone, as playtesting is even more chaotic than I anticipated, but ultimately, we all had our fun as we test drove different rules and evolutions of the rules as the playtest went on.
Mixed Reviews
My playgroup had mixed reviews of D&D Next.  My group's vets, DMs, and new players all had good and bad experiences.
Starting with the vets, our resident power gamer didn't feel like there was ever enough… well, power.  Or said a different way, not enough options, choices, and quantity of those things as you level.  He's a fan of 3.5e though, so that's no surprise.  In fact, he's been hoping I run some Pathfinder, which is essentially 3.5 with some clean up and polish.
When my brother got a chance to play PCs, he wasn't as at odds with the power level or complexity, as he's not as a big a power gamer – more a tactical, efficient play style.  But he definitely enjoyed Next more than 4e, which he really grew to dislike thanks to its very rulesy, and more than that, simply slow overall play.  Even some tacticians can be overwhelmed with the boredom of molasses-like tactical play, apparently.
When I got a chance to play as a PC, I found creating a character fairly quick considering the complexity – even high level characters didn't take too long.  (Though no matter the playtest packet, character creation speed of Dragon Age wins most often, especially at lower levels.)  In fact, I preferred earlier playtest packets for character creation and rules complexity.
Meaning, from a character creation and play perspective, the playtest packets' complexity had evolved significantly.  By the end of playtest, I felt we were definitely closer to 4e than we'd ever been with Next, whereas in the earliest and middle packets, it felt more like a 2e/3e hybrid – surprise, my favorite editions!  (Well, except for Basic Red Box+, which was The Beginning for me, of course!)
We had a few brand-new-to-RPGs-and-D&D gamers in there too, which was great.  I thanked and thank everyone again for their patience during all our playtest games, and none more especially than our new players who were excellent considering all the newness and all the changing rules from month to month.  No question the later packets were harder for our new guys and gals though to switch gears into and drive smoothly during the game.
My greatest joys out of all the D&D Next Playtesting our group did together – with our Seascape high-seas naval mini-campaign being the highlight – was feeling like we got back to D&D's balanced storytelling and game roots, truly helping to evolve D&D into something better, and introducing and teaching how awesome our hobby is, and how awesome D&D is, to  new players all at the same time.
My biggest disappointment is that some packet rules changes were too jarring, confusing or needlessly complex.  But then again – it was playtesting!  Some of that is to be expected.
A Few Rules Gone Wrong

The truth is, by the last playtest packet, I regret my group's interest (mine unfortunately included) had suddenly dropped off.  Some low-lights that contributed to us reaching this point include:
Crits Nerfed into Oblivion.  Crits became more and more boring with each packet, until by the penultimate one, the ridiculous crit rules punched us all the in face and truly made crits anything but exciting or powerful.  Thankfully, the last packet on 9/20 reverted crits to something impactful and  powerful again with minimal dice rolling and calculation.
Needlessly Complex Fighters.  Sorry, for the classic, straightforward likes-to-fight-guy, you couldn't really create or level him that way.  Dare I say, there were too many choices to make even if you were purposely going for the simplest of great weapon fighters, for example.  We had someone play a fighter, and we both were a bit overwhelmed by the changes this once-simple class went through as the playtest went along.  Still, the final 9/20 version seems to dial back – or at least better organize – the complexity just enough while clearly defining simple themes and roles for your good ol' simple fighter.  (And on an unrelated note, while the "wizard" became a "mage" at one point, the "fighter" for a class name has somehow stuck – it just sounds silly, especially for newcomers.  "Warrior" seems like the better, natural choice, even if Dragon Age already uses just that.)
Skills & Tasks Became Blurred & Rigid.  This became more and more confusing, strange, overly defined and simply annoying with each playtest packet.  Needless to say, our group liked the more organic treatment of skills, tasks, and checks in the earlier packets – closer to how Dragon Age does abilities and related checks or tests.  Ironically, by the very last 9/20 packet, ability scores and their related skills and tasks had a remarkable resemblance to Dragon Age's more natural and elegant presentation.
Martial Damage Dice Removed/Reworked.  I really missed the excitement, options and ultimate elegance of the martial damage dice pool from the earlier packets.  It compares somewhat to Stunt points from Dragon Age, where you could use a certain amount of points, or in this case, dice, to "do other cool stuff" instead of just additional damage.  But it was cool to always have the choice to just deal a bunch more damage instead of some damage plus cool stuff.  I really felt like it was a well-balanced mechanic from every perspective, so I don't like that they changed how they worked, recasting them quite differently by class.  Suddenly, everyone's "martial damage dice" was called something else, used different types of dice (instead of everyone using a pool of extra d6's), and did remarkably different things.  I liked how if I knew how the original fighter's martial damage dice pool worked, that it would be very much like the monk's.  (And the monk was pure awesome!  Loved playing it!)
Here's to D&D's Future!

And that's that – my D&D Next or 5e Playtest thoughts, like the playtest itself, have come to an end.  It was still a good time overall, and I'm excited to see what the final, modular, polished game looks like.  There's still a ways to go to truly making it the perfect balance of every edition and balance of storytelling and game D&D should be.  But, thanks to our help, and your help, we're on our way to a whole new – and hopefully better than ever – generation of Dungeons & Dragons in 2014.
So how about you: what were your favorite or least favorite parts of the D&D Next Playtest?  What one rule or change was awesome, and which one did you feel was downright terrible?