Love the cast of characters in your D&D game?  Especially those party allies you make and keep on the way to, through, and after the Nine Hells?  Like the ideas presented in DMG2 but looking for something with even more simplicity and even less DM prep work?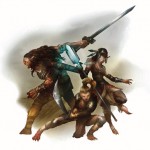 Better Together!
Why are companion characters or party allies so great?  NPC companion characters provide a wonderful storytelling and roleplaying tool for DMs.  Ideally, they help draw out some amusing or memorable roleplaying atmosphere from your players through their questions and banter.  
And of course, party allies make for a helpful brother or sister-in-arms in the thick of combat.  For small parties, they especially help in filling a missing role. Regardless of party size, just one companion character can help breathe a lot of life into party banter alone as the adventure and campaign continues. 
Just like when the PCs make quips or drop funny comments about other PCs, NPCs are an excellent instigator for these great roleplaying bits amongst the party.  A brutal critical, a horrible and embarrassing miss, a comment about a terrible first impression made with the constable or barmaid, somewhat ignorant questions about someone's race, calling or the place they grew up – all these small pieces of dialogue and interaction add life to the entire cast of characters, both PC and NPC.  And of course, tactically, there's nothing like having a companion character along to help flank and eviscerate an enemy, slow them down with a ray of frost, or give you a shot of adrenaline and healing when you need it most.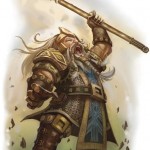 Sure, you can just use a monster on the list in DMG2, plucking it right out of the Monster Manual or online Compendium.  But that list is very short, and extremely lean on a few often missing yet very helpful roles, such as Controller and Leader. 
This makes custom companion character creation far superior.   However, even custom companion characters come with a significant amount of rules and take a fair amount of prep time to write up, including stat blocks, background details and updates as they level up.  So if you're looking for something even simpler and faster that still provides a personality and mechanical benefit to the party without needing or counting as a full-fledged custom companion character, try this:
 
Super Simple Custom Companion Characters
1) Create a cool, evocative name.  (Need help?  Try Chris Perkins' Instant NPC Names list.)
2) Imagine 2 personality traits that you find fun to roleplay.  (Need help?  Try Chad Samuel's 1000 NPC Traits list over at Roleplaying Tips.)
3) Choose the party role the character fills.
4) Based on the character's role, choose the appropriate permanent mechanical bonus to the party's PCs:
Controller: +1 to attack rolls per tier
Defender: +1 AC per tier
Leader: +1 healing surge per tier
Striker +1 to damage rolls per tier
5) Take these four bits of information and put them down on an index card or sheet of paper.  Keep it visible for both PCs and the DM. 
Design Goals
What we've created now is an alternative, scaling companion character that captures the essence of each role they represent in combat:
Controllers whose many wide-area, hampering effects make striking and finishing off your enemies easier
Defenders who help shield you from taking a beating
Leaders who help push you on through multiple injuries and battles
Strikers who help you deal additional damage through tactical maneuvering and combined fire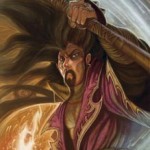 We've done all this without the complexity and in-game time consumption of a full-fledged companion character statblock and turn.  So leave their mini or token off the battlemat or tiles, and just drop in flavorful bits of commentary in reaction to the PCs' and enemies' actions – both in and out of encounters. 
This design is intended for each NPC super simple party ally to be similar in strength to a feat – significant enough to know they're there, but not so complex they dominate the game in any way, whether mechanics or their management.  (Note: For game balance reasons, don't stack bonuses among multiple party allies of the same role – i.e. two party ally controllers still means only a +1/tier hit bonus.)
I personally create and use full custom companion characters often, especially in small groups, and this is just one alternative I've recently come up with to capture their feel with a bit less complexity. 
Companion Characters in Your Games
What about your games?  How often do you seek out or add companion characters to your game for both help in combat and some roleplaying fun?  What do you think of the effort required to create and run custom companions in DMG2?  What do you think of an alternative system like the one above? 
Please share your experiences – I'm quite curious hear about how companion characters are being played at your table and what you think of them!