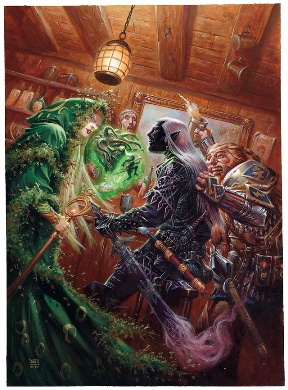 One of the major problems with D&D 4e combat is its average length, typically caused by the tremendous slowdown that occurs during combat due to the multitude of options the all-important action economy offers.  Consider that a character has at least three actions he or she can take on every turn (standard, move and minor, plus a few free actions). 
Now add in the immediate action every round, the opportunity action per other creature's turn, and other immediate action-like or triggered free actions a character can take, and you're looking at one bloated action economy.  It's no wonder turns – either yours or someone else's – grind to a screeching halt. 
And this is without even mentioning the time cost of the decision making process that comes with declaring any type of action in the first place.  That is, you need to read what your skill, ability, feature or power does, understand its applications, and determine whether it's actually helpful in your current situation compared and in addition to other options. 
In this sense, it's sort of like an advanced, text-rich game of chess where the nature of the pieces' capabilities are often changing along with the shape of the chess board.  As the game goes along, you have to cipher the text-pieces and then take even more time – whether it's your turn or not – to resolve every move and action completely before moving on to the next decision point.
Obviously, this can get pretty frustrating for players and DMs, for several reasons.  One, no one likes their turns being constantly interrupted, even if it's something helpful.   Once in a while is fine, every round or turn is not.  Game turns run more smoothly when someone can take their full alotment of actions, focus on their contributions, and say "done."  While there's a place for monsters' and PCs' triggered actions, too many of them create a long, uneven, and tedious game experience.  Combats bog down, players and monsters wait forever to go, and the excitement of D&D combat loses its luster after an hour of slowdown due to the bloat of actions.
What can you do to keep combat pacing moving at an exciting clip?  Keep your total number of immediate action, free action, and opportunity action power selections down.  Take "simpler" powers and feats that aren't walls of text.  One class maxim I borrow from my Magic: The Gathering days is asking myself: "Is this [power, feat, class feature, etc.] useful all the time?" when analyzing game elements.  The other, newer maxim I use for D&D 4e combat is: "Is this power simple to understand and quick to resolve in play?"  The latter helps me eliminate as much slowdown at my games as possible. 
And remember, by making these reasonable choices, you're saving everyone in your playgroup time – it's not just about you!  D&D is a collaborative storytelling game, so understand that it's not cool to have fun at other people's expense – it's one of those unwritten rules.  It's not much different than broken powers that need a DM to step up and make a house rule, preferably after the session and after discussion.  The game has to be balanced and enjoyable, and we can surely get there without broken combinations, eternal stunting of everyone's turns, or grindy two-hour combat encounter marathons. 
Looking for more on this?  Besides Mike Mearls' comments on immediate actions and Robert Schwalb's blog article linked above, you might also like At-Will's classic article, The Speed of Choice: The Real Reason your 4e Fights are So Damn Slow.   Also, this week's Critical Hits podcast on with Mike Shea of Sly Flourish and Loremaster's Matt James includes an excellent conversation about these and and related Power Creep topics.  They even make a few creative but somewhat radical suggestions on slimming down the action economy for smoother play, less grind, and faster combat. 
Finally, for some of the best tips for faster 4e combat – including the #1 tip: Know the Rules which essentially includes seeking to become both an action economy and rules knowledge black belt – don't forget to refer to my recent article, Faster D&D 4e Combat: Top Tips often. 
What are your top tips for a faster, smarter, better action economy and faster 4e combats?