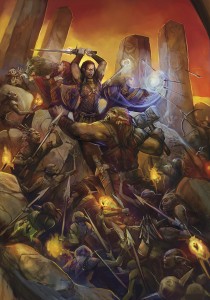 Ever wonder what a D&D game without opportunity attacks might be like?  Or wish there were some way to resolve them more quickly and elegantly? 
Tired of hearing "Wait, whose turn is it again?  Oh, that was an opportunity attack, right…" or hearing the active player sigh while you interrupt his turn and stage time yet again with your annoying little poke?
You've come to the right place, my friend: I present you the latest Leonine list, a 6-pack of brilliant ideas to amp up your game tonight!  
Pillage any of these alternative approaches to help get rid of those pregnant pauses and time-consuming interruptions that OA's often feel like.  Never let opportunity attacks ruin the opportunity for a great, fast-paced combat again!
Opportunity Attacks: 6 Better Executions
6. Static Damage.  Rather than roll damage, deal instead 5+level or 5/tier damage instead of a successful attack.  Not enough?  Automatically allow OAs to hit too, and deal the same damage.  The benefit?  You drastically reduce resolution steps and calculation time.  You breeze through OAs.
5. Vicious Crits.  Have all OA's automatically crit.  Maximum damage?  Not enough!  Allow a single "OA Crit" roll.  On a natural 20, blend old school and new school and deal double the maximum damage!  This approach keeps the OA rare and more punishing, making crits more exciting, bursty, memorable and lethal.  Good way to add a slightly healthier fear of death to your games, without all the steps or math of a typical OA. 
4. Bonus Hit and/or Damage to Next Attack.  In contrast to #5, this is more conservative bonus similar to combat advantage, circumstance bonuses or reward tokens.  Add +2 to hit and/or +5 damage on the combatant's next attack when an OA would otherwise have been provoked.  Want more scaling or pop?  Go +2/+3/+4 to hit and +5/+10/+15 damage per tier.  This approach builds up the excitement and deadly effectiveness of your next attack on your turn, without adding interruptions to other players' turns.
3. Bonus Attack on Your Turn.  Free basic attacks for everyone!  Like #4, you gain more organized turns this way because everything happens on your own turn.  You still retain much of the original OA with this method except you gain a mini-haste effect on your turn.  Again, it's self-contained for use on a player's turn instead of randomly inserting itself into and messing up someone else's.
2. Bonus Action Point.  Ooo… ahhh…  In the spirit of being rewarded for an opponent letting their guard down, this gives you a lot more freedom than a simple basic attack like in #3 – and ensures you'll have an action point for nearly every fight.  Encourages more creative action and exciting turns with this extra resource bump.  As DM, give it to elites and solos who already come with action points, either using it as a sort of recharge or breaking their normal action point limit.  After all, these guys should be more challenging and terrifying, right?
1. There Is No Spoon… or OA, Either.  Whoah.  The simplest rule may be the best rule.  Also possibly the most controversial.  Fight!  Fight!  Good times!  While your tacticians and power gamers may lament its loss and the 13 billion available OA-related feats, keep in mind the time-saving and interruption-reducing potential of smoothing out your combats by removing the OA altogether.  Aren't there enough ways to interrupt other peoples' turns and piss them off doing it as it is?  (Beware those medusae-heavy encounters!  Beware I say!)
The Good, the Bad, and the Opportunity
Most of the alternative rules above attempt to capture the essence of what the OA represents: taking the risk of letting your guard down for a split second in combat, opening yourself up to attack.  The difference is, these options will save you more time and steps in the OA's execution, reducing the impact of their interruption on game play. 
Still not enough?  Already covered that.  See #1.  Hooray spoons!
Oh, and Dragon Age doesn't have opportunity attacks.  Shockingly, none of us fell over and cried or died because of it at our first Dragon Age game last week!  It was a Halloween miracle!
Your Opportunity is Now
What's your experience with opportunity attacks and their resolution?  How much do you they slow your combats down? 
Would you still enjoy D&D combat without them?  What OA tips, advice or house rules do you have?
You'll find more ideas and articles to bring you faster combat right here.  
And for evern more help in speeding up your combats, check out my brand new project with Johnn Four of Roleplaying Tips: the Faster Combat course!